We can't help it. We love a personalized gift. And also, people love when we give them a personalized gift. So it stands to reason, that between us and them, just about everyone appreciates a gift that has been made to represent or reflect them in some way.
Quick disclaimer regarding this post title: Yes, you CAN go wrong. Before you order a personalized gift, be sure you know the gift recipient's correct size! If you can't get their size, try to find a non-size-specific personalized gift. And if you're buying something for a couple, be 100% certain that you know how to (correctly) spell both people's names and/or last names.
Okay! Time to our 3 favorite customizable gifts (no sizes required!) that you can have engraved or personalized with names, initials, family names, dates, and more!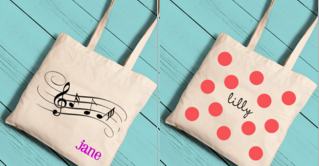 Personalized Tote Bag – Most of the options at our partner, A Gift Personalized, are for the ladies, but there are a few men's travel kits that you can personalize. The bonus on these canvas tote bags is that you can personalize for ladies no matter their age, hobbies, or favorite color. Extra bonus: this is a practical gift that won't just sit on a shelf.
Click Here to Customize a Tote Bag or Travel Kit

Personalized City & State Canvas Sign – This is a gift for the whole family, or maybe just mom and dad (the kids might not appreciate the lack of toys with this one.) Unlike a lot of the state signs out there, you can actually customize this with the city, including a marking on the graphic and the city written out under the family name. Sweet!

Click Here to Customize a City & State Canvas Sign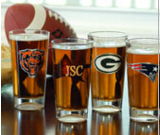 Personalized NFL Engraved Pint Glasses – This one is mostly for the guys, but we aren't discounting the rabid female football fans out there! These pint glasses pull double duty, with the gift recipient's favorite NFL team logo on one side, and their personal initials on the other! We love the little sculpted football on the bottom of the glass, too!
Click to Customize These NFL Glasses for Your Loved Ones
Click here for more Gifts for Sports Lovers
Click here to shop all Personalized & Engravable Gifts