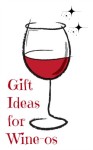 Our most popular gift category on GiftSniffer.com is, without a doubt, alcohol and wine gift baskets. Our most popular search on the site? "Wine".

We love a good wine as much as our shoppers, so we have created a new section of wine-related gifts to make shopping easier. You might also call them Gift Ideas for Wine-os. Click here to view great wine gifts and gifts for wine drinkers.
Interested in a Wine of the Month Club for you or a friend? We've got 7 great partners who offer tasty monthly memberships delivered right to your door; just click on a banner below to check them out!