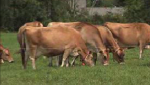 Happy July, Everyone!
Yes, we are a little late. We just got back from a summer vacation/family visit session and are getting back in the swing of things.

We loved the beach and the pier and all the wonderful places we visited, but we also enjoyed some relaxation time and some good books. At GiftSniffer, we're always trying to learn more about the natural order of things (you know, the stuff we missed in science class while writing notes to our best friends). That's why we're sharing the video below.
This video provides some interesting history on pasteurization. It's cool even if you aren't into science or raw milk. Did we mention the brown cows in it are super cute? Enjoy!